A WOMAN born without a womb has become a mum thanks to her sister offering to be a surrogate and her parents paying for IVF treatment.
Faye Richards, 31, from Hereford, was born with a condition called Mayer Rokitansky Küster Hauser syndrome which meant she could never carry a child.
As her husband Tony, 41, a decorator, had three children from a previous relationship the couple knew they would have to pay thousands for private IVF and surrogacy expenses to become parents together.
Faye's younger sister Kim Thomas, 28, stepped up as an IVF surrogate – and her parents Dave, 66, a plasterer, and June, 58, a nurse, offered to foot the £22,000 bill for private treatment.
Faye said: "Kim and I were always close, but when she offered to be my surrogate I was staggered.
"It was the most generous offer she could have made, when my parents gave us the funds to make it happen our dream of being parents was finally within reach."
Kim, a health care assistant who is mum to six-year-old Harry, added: "Being a mum was so important to Faye I knew I'd do anything to make it happen. I know she would have done the same for me."
After two unsuccessful rounds of IVF with Faye's eggs and Tony's sperm, Kim – who is engaged to partner Jason Baginski – fell pregnant on her third attempt. Baby Ralphie was born in May.
Faye, who works in mental health, added: "Every time I look at my son I feel so lucky my family helped me have him.
"When Ralphie's older I'll tell him that we wanted him so much his Auntie Kim and Grandma and Grandpa stepped in to make it happen."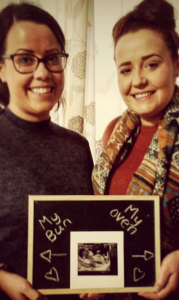 Faye was diagnosed with MRKH and polycystic ovaries at Hereford County Hospital aged 19 when her periods still hadn't started.
She said: "Put simply, I was born without a womb. I have ovaries and produce eggs, but have no Fallopian tubes or uterus so will never carry a child.
"It was devastating. Even as a teenager I knew I wanted to be a mum someday."
In January 2011, Faye started dating dad of three, Tony. They discussed having children together through an IVF surrogate – meaning Faye's eggs would be fertilised by Tony's sperm and implanted in a surrogate womb.
But in December 2012 they were refused IVF surrogacy on the NHS as Tony was already a dad.
Faye said: "We knew private surrogacy would cost thousands in expenses on top of the £6,000 quoted per round of IVF. There was no way we could afford it."
That month the couple got engaged and Faye asked her sister to be her bridesmaid. Then in June 2013 Kim made the huge decision to offer her womb as a surrogate for her sister.
What's more, June and Dave offered to lend Tony and Faye money to pay for IVF.
June said: "We used our savings but there was nothing more we wanted to spend that money on.
"Tony promised to pay back every penny, but we told him we're in no rush to see that money.
"It was our first present to our grandchild."
Now, Kim and Jason plan to get married next year, and Faye said she can't wait to attend the ceremony with her husband and son.
Kim said: "Faye kept asking how I was feeling. I told her I felt like I'd just carried my nephew so my sister could be a mum."
Read Original Article Here: https://www.herefordtimes.com/news/local/14760516.Baby_joy_for_mother_with_no_womb__thanks_to_loving_family/?commentSort=score