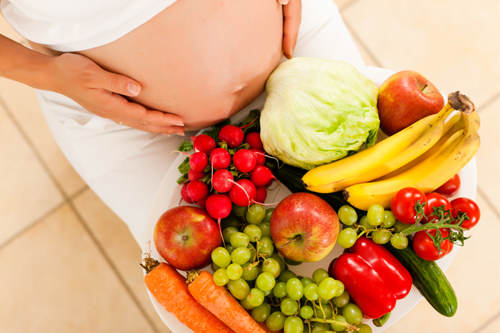 While food cravings are a well-known symptom of pregnancy, surrogate and otherwise, it's still not quite understood what causes them. Some experts believe they're meant to indicate nutritional deficiencies in a woman's diet, while others believe that the types of food being craved are indicative of the baby's gender.
In a recent survey, 80% of pregnant women said they'd experienced food cravings. 40% of them craved something sweet, 33% wanted salty foods, 17% craved spicy foods, and 10% craved sour and citrus fruits.
Based on these results, the top ten foods included ice cream, pickles, tomatoes and tomato sauce, lemon, cheese and chocolate. It seems relatively common for women to want animal fats – steak and pork fat, for instance.
Some women want strange combinations – black olives on cheesecake, pickles wrapped in cheese, and eggplant on pizza have all been reported. Exclusively craving a single food is also common – pickled onions, salsa and peaches seem especially popular in that regard.
Following the birth of their baby, many women for some reason experience an aversion to those same craved-for foods.
As stated, experts are divided on the explanation for these cravings – there are several theories. The more popular ones are:
1. Hormonal changes may alter a woman's senses of taste and smell, making her want food she normally wouldn't have enjoyed. This theory could also explain why menopausal women often experience food cravings/aversions.
2. They're a reaction to nutritional deficiencies. For instance, a craving for pickles may indicate low sodium levels in the blood, while a vitamin B deficiency may drive a craving for chocolate. Desire for red meat could indicate a need for protein, while cravings for peaches could be a result of low beta carotene levels.
3. Emotional changes are known to be connected with food intake – a pregnant woman may crave certain foods, consciously or subconsciously, as a response to emotional needs. Often pregnant women want foods that remind them nostalgically of their childhoods, or perhaps their cultural/religious backgrounds, particularly if they haven't eaten those foods in a while.
Remember that there's no scientific consensus on this – no data to prove that cravings are related to biological needs, and none to prove that they (generally) are harmful.
But it's important regardless to watch your diet while pregnant. Find healthy substitutes for the tastes your body is craving, and never deprive yourself of food in general. If problems do arise that prevent you from eating balanced meals and gaining weight as you should, check with your doctor – it may be indicative of something more serious. As a surrogate mother, your intended parents will most definitely appreciate your taking care of yourself.
[message/]