In a welcome move, Bombay High Court recently directed maternity leave to be granted to a woman who had attained motherhood through surrogacy.
The Bench, comprising Justice Anoop V. Mohta and Justice G.S. Kulkarni observed, "Having considered even Rule 551 (C) and (E) of Child Adoption Leave and Rules, we find that a case is made out for grant of interim relief in terms of prayer clause (b) as there is nothing in rule 551 (C) and (E) as referred above, which would disentitle maternity leave to a women who has attained motherhood through surrogacy procedure."
Accordingly, the Court directed the Central Railway to grant 180 days maternity leave to its woman employee.
The petitioner had given birth to twins through the procedure of surrogacy and thereafter applied for Maternity Leave relying on Rule 551(C) of the Indian Railway Establishment Board. The application was however rejected on the ground that the petitioner, before entering into an agreement of surrogacy, did not take permission of the Railway Board.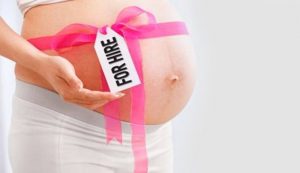 The Counsel for the petitioner, Sandeep Shinde and Tanya Goswami had brought to the notice of the Court a Division Bench judgment of Nagpur Bench of Bombay High Court in the case of Dr. Mrs. Hema Vijay Menon v. State of Maharashtra & Ors.,Writ Petition No.3288 of 2015, where it was specifically observed, "A woman cannot be discriminated, as far as maternity benefits are concerned, only on the ground that she has obtained the baby through surrogacy. Though the petitioner did not give birth to the child, the child was placed in the secured hands of the petitioner as soon as it was born. A newly born child cannot be left at the mercy of others.
A maternity leave to the commissioning mother like the petitioner would be necessary. A newly born child needs rearing and that is the most crucial period during which the child requires the care and attention of his mother. There is a tremendous amount of learning that takes place in the first year of the baby's life, the baby learns a lot too. Also, the bond of affection has to be developed. A mother, as already stated hereinabove, would include a commissioning mother or a mother securing a child through surrogacy. Any other interpretation would result in frustrating the object of providing maternity leave to a mother, who has begotten the child."
Agreeing with the Petitioner, the Court granted the relief and posted the matter for disposal on March 11.
Last year, Kerala High Court had delivered a similar ruling, observing that women employees cannot be discriminated against for maternity benefits, solely on the ground that they obtained the baby through surrogacy. Justice Dama Seshadri Naidu had considered the dichotomy of maternity- pre and post natal. He had upheld the proposition, and observed, "From day one after the delivery, the petitioner is required to be treated as the mother with a newborn baby. Thus, without discriminating, it can be held that the petitioner is entitled to all the benefits that accrue to an employee after the delivery, as have been provided under the Act or the Staff Rules. Nothing more; nothing less, for the petitioner cannot compel the employer to place her on a higher pedestal than a natural mother could have been placed, after undergoing the pregnancy."
Read more at: https://www.livelaw.in/women-who-obtain-baby-through-surrogacy-entitled-to-maternity-leave-bombay-hc-read-order/